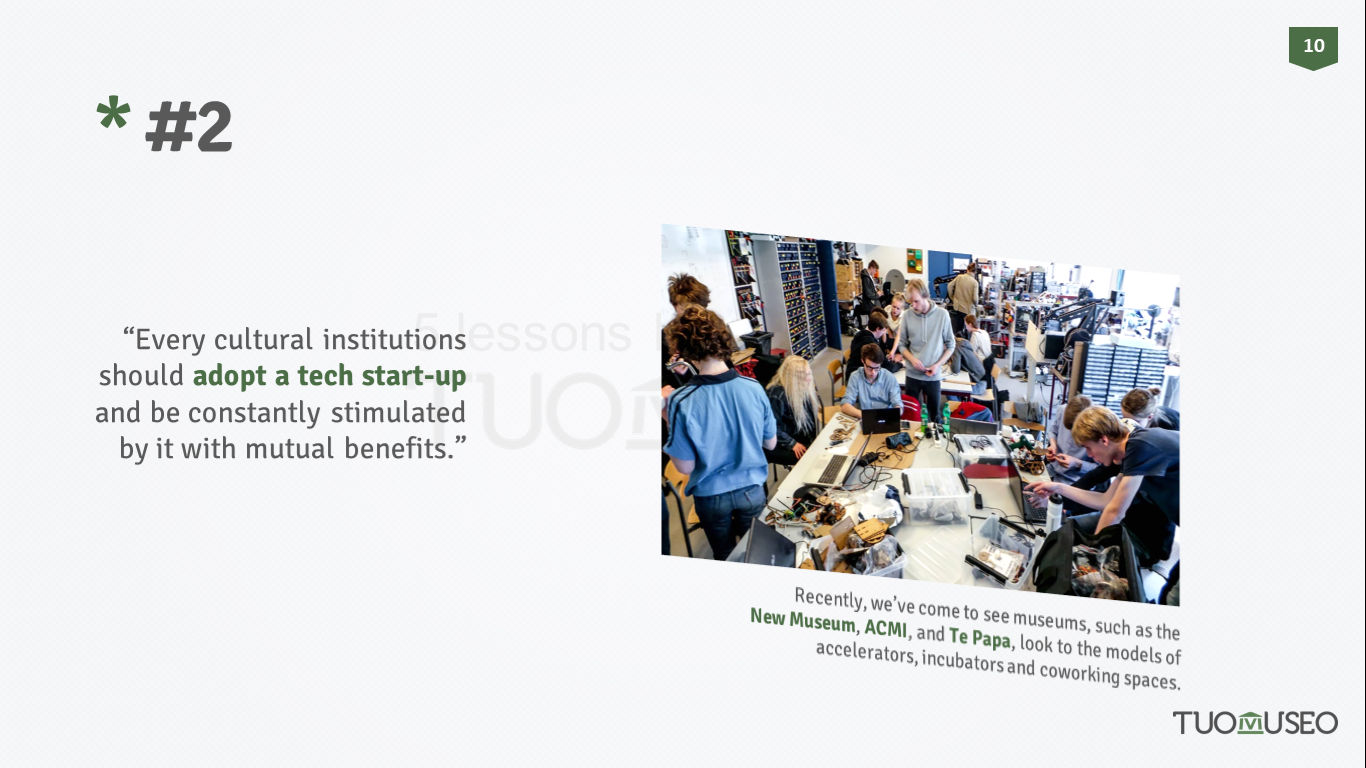 Tech triggered creatives for the cultural institutions
Fabio Viola is one of the world's leading Game Designer, founder of the cultural assocation Tuomuseo, and speaker at THE ARTS+ Innovation Summit 2017 in Frankfurt.
Lo speech del nostro Fabio Viola alla Buchmesse di Francoforte dal 10 al 13 Ottobre all'interno dell'evento TheArts+ dal titolo "HOW TECH-TRIGGERED INNOVATION CAN LEAD TO EMOTION, IMMERSION AND INVOLVEMENT"
"For one of those unpredictable cases of life, a boy who grew up in the 1980s with two great passions, I could say obsessions – video games (for the joy of my parents and their wallets) and history – is here now, very excited, on this stage.
After having attended archeology at the university and after a decade spent working with international entertainment companies like Electronic Arts or Vivendi Games (being part of projects like Harry Potter, SimCity, Need for Speed, Hello Kitty) last year Fondazione Cariplo ( an italian banking foundation) gave me a chance to connect the dots of my life. Surely without their Cultural Innovation program and their starting grant I would not be here at THE ARTS+, my company Tuomuseo – a cultural assocation which aims to find solutions for the future of cultural heritage – would never had founded, and projects such as "Father and Son" would never have come to life.
I will not dwell on the game, you can download it for free on the App Store and Google Play and get an idea by yourself.
The game has been published and funded by the National Archeological Museum of Naples, directed by Paolo Giulierini, making it one of the first worldwide case study in this intersection across cultural institutions and a creative start up. "Father and Son" itself has been recognized by the Italian Minister of Culture, Dario Franceschini, in an interview a few days ago as an artform and this is going to open a wide range of new opportunity for our industry. Last but not least, through the technology we attempted to bridge the gap across digital and physical experience. We included a check-in option in the game main menu, in which the players can unlock additional in-game contents only when visiting the museum physically. The result? Over 10 000 players went to Naples paying 12 euro admission fee in order to unlock new game areas or main character outfit.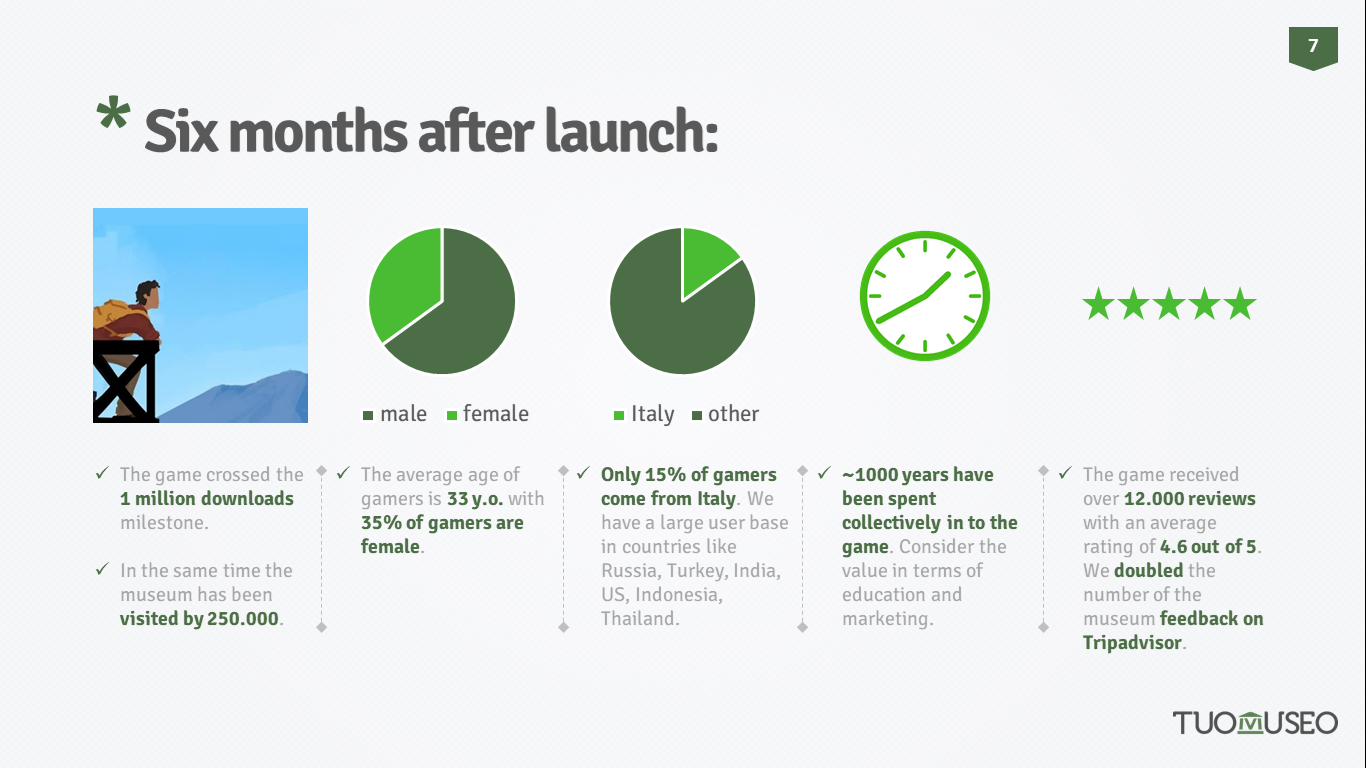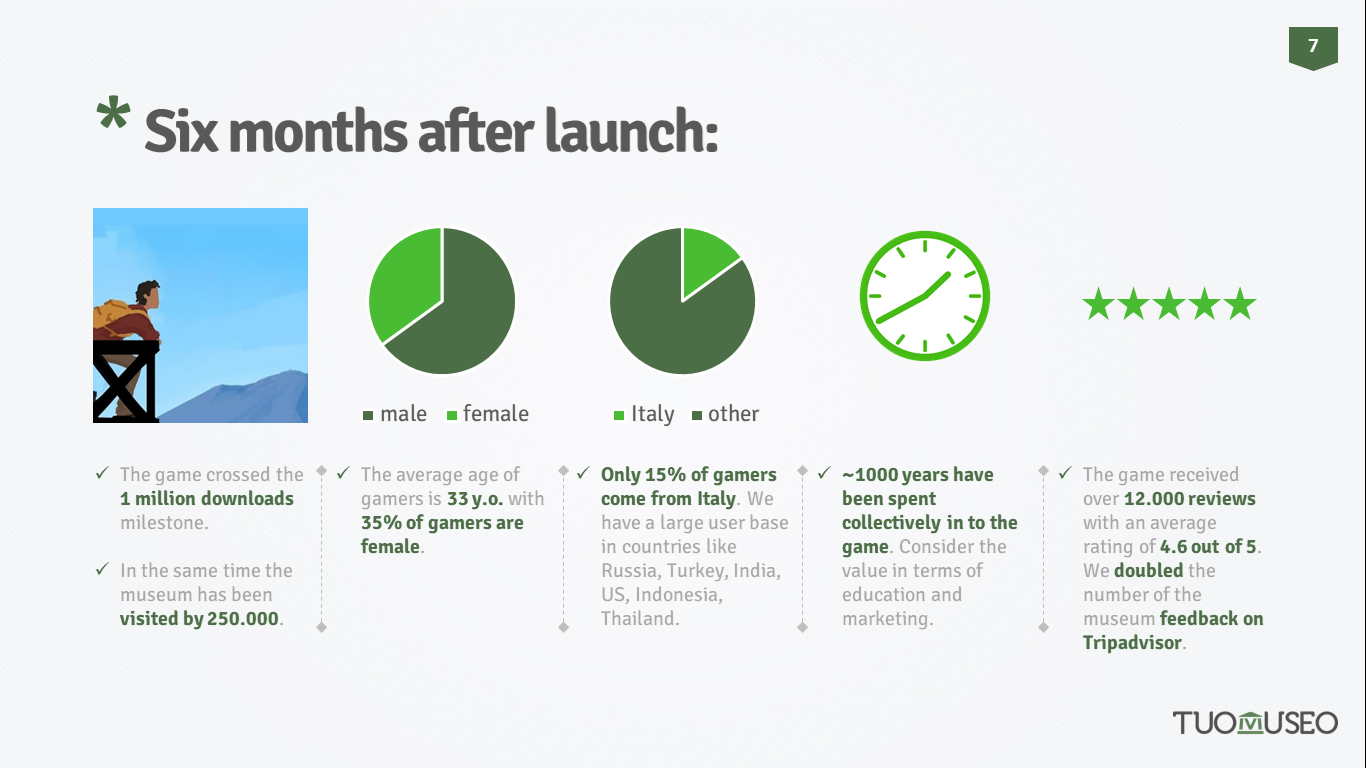 Six months after the launch it's time to share the first insights:
– The game crossed the 1 million download milestone. In the same time the museum has been visited by 250.000.
– The average age of gamers is 33 with 35% of gamers are female.
– In terms of audience, only 15% of gamers come from Italy. We have a large user base in countries like Russia, Turkey, India, Us, Indonesia/Thailand
– 1.000 years have been spent collectively in to the game. Consider the value in terms of education and marketing,
– The game received over 12 000 reviews with an average rating of 4.6 out of 5. We doubled the number of the museum feedback on Tripadvisor.
Going beyond the specific case study, I would like to share with you 5 things that I have learned in this first year with Touomuseo:
1. There is a huge amount of opportunities combining technologies to develop our cultural heritage. We are full of cultural "brands" (places, artworks, stories) out of there with an untapped potential both in terms of audience development and revenue streams. At the same time we have start ups and creative companies that strive to work on those brands. What if we are going to create a matchmaking portal where movie directors, game producers, musicians, AR/VR developers can find places and stories where to settle their new projects or experiment their new technologies in agreement reaching an agreement with the administrators of those cultural heritage institutions. What a huge opportunities we are missing!
2. A large part of the cultural institutions can't handle by themself the rate at which new technologies evolve. I'm worried about the legacy of tech based cultural institution projects: If these projects are just outsourced, they will stay a short term solution with no knowledge transfer. Every cultural institutions should adopt a tech start up and be constantly stimulated by it with mutual benefits.
3. Technology should not only be considered as a cost but, when well integrated in a strategic plan, it could enable new revenue streams, which I will be talking about tomorrow at 3 pm at THE ARTS+ Runway in a specific talk. In "Father and Son" the museum earned 120.000 euro thanks to the check-in mode in just 6 months – not only recovering the project cost but even starting taking some profit. In our next projects we are exploring several additional revenue streams including game related merchandising, a virtual tour available as an add-on after a micro-transaction, contextualized in-game donation system, product placement of other cities/cultural places and so on.
4. If public and private funding programs play a key role specially in attracting new talented start ups and skilled individuals, intermediaries are crucial in creating a network and fostering the business. Honestly an important slice of our revenues are coming from companies I met for the first time in events like Artlab, a platform in Italy, dedicated to innovating practices and policies in and through arts and culture, organized by Fitzcarraldo Foundation.
5. Contamination is the key. In our company we have developers, artists, audio designer, art historians, archeologist and I think we should be more inclusive even in the cultural institutions. I dream about a game designer hired in any public office